In a warm mixing bowl, place 1/2-cup all-purpose flour. Over it crumble 1 small cake compressed yeast. Make a hollow in the flour and pour into it 1/2-cup lukewarm milk and water mixed. Add 1-1/2 teaspoons sugar and stir these ingredients until well blended. Cover and let rise in a warm place for 20 minutes. (I used 1 packet of regular dried yeast)
Cream 1/2 cup shortening (part butter), and gradually add 1/3-cup sugar. Add 1/2-teaspoon salt, 1 teaspoon grated lemon rind, 1 tablespoon lemon juice, 2 beaten eggs, 1-teaspoon vanilla and 1/2 cup water and milk mixed. Sift 4 cups all-purpose flour. Stir part of it into the shortening mixture. Add yeast mixture. Add remaining flour and knead well. Cover and let rise in a warm place until doubled in bulk. Roll dough 1/2-inch think, cut with floured doughnut cutter. Place on lightly floured board and let rise until doubled in bulk. Fri in deep fat, heated to 370°.
(I didn't have a lemon so I subbed 1 teaspoon of fruit fresh. Baked them at 375° for 30 minutes)
This is the same dough that is used for coffee cakes; instead of making it all into doughnuts, part may be made into coffee cake at the time of shaping the dough.
This is what I used for the filling.
3/4 cup brown sugar, packed
1/2 cup flour
1 tablespoon ground cinnamon
1/2 cup butter, cold
Mix dry ingredients and cut in butter.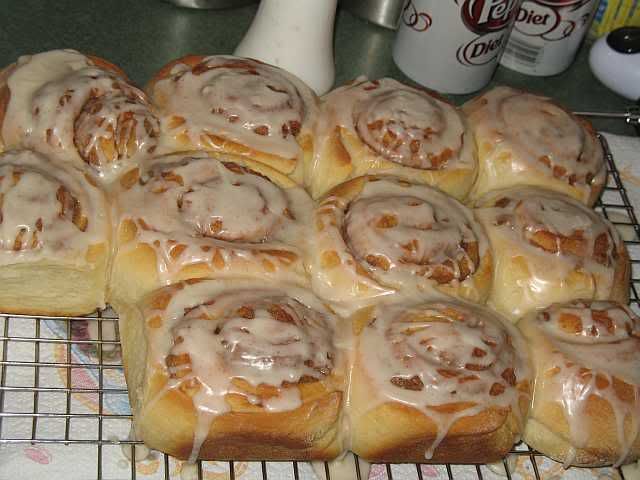 The Pittsburgh Press – March 16, 1945...
I found this recipe on "The Fresh Loaf" it looks awesome... I had to post for future reference.